Shipping:

1. What is your standard shipment method?

Unless otherwise requested by our customer, TheUnionBootPro drop ships directly from our warehouse
using USPS Priority Mail Service. (See map below to determine the estimated delivery time for your order.
Please add 2-3 days for processing the order.)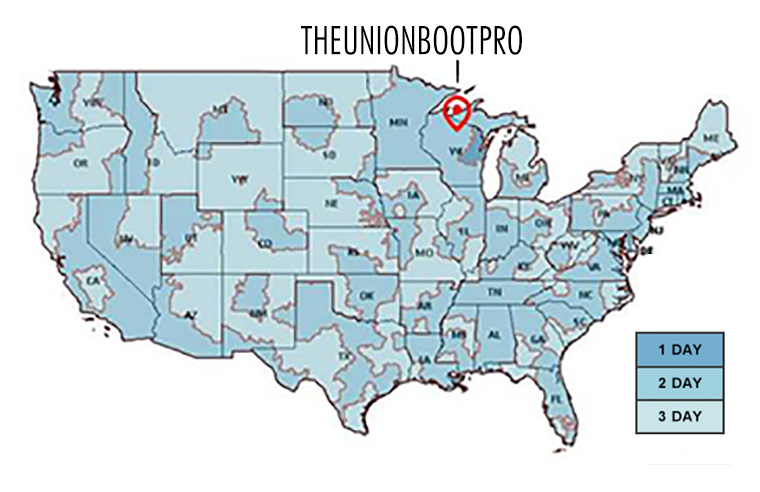 We wish it was a perfect science, but it's not. Some of our customers may receive their orders ahead of time and other customers may receive their orders later than expected.

On occasion we may use UPS Ground Service if the destination is better served by these resources.


2. What is your standard shipment cost?

GROUND SHIPPING IS FREE ON ALL USA DOMESTIC ORDERS OVER $150!

3. Can I get my boots or shoes shipped to me faster than "ground"?
Yes, by calling us at 1-800-723-5384, we can arrange 3 Day, 2 Day or Next Day shipping via UPS.
Destination (General Area)
UPS Ground
3-Day Air*
2-Day Air*
Next Day Air*
*Express shipping requests MUST be received by 9:30am Central Time for same day shipping, otherwise orders
will be shipped the following business day.
Boston, MA
$ FREE
$30.69
$42.41
$92.13
New York, NY
$ FREE
$30.69
$42.41
$92.13
Washington, DC
$ FREE
$30.69
$42.41
$92.13
Billings, MT
$ FREE
$30.69
$42.41
$92.13
Charlotte, NC
$ FREE
$30.69
$42.41
$92.13
Atlanta, GA
$ FREE
$30.69
$42.41
$92.13
Tampa, FL
$ FREE
$39.95
$59.73
$99.99
Memphis, TN
$ FREE
$30.69
$42.41
$92.13
Chicago, IL
$ FREE
--
$27.01
$50.55
St. Louis, MO
$ FREE
--
$31.57
$84.48
Dallas, TX
$ FREE
$30.69
$42.41
$92.13
Denver, CO
$ FREE
$30.69
$42.41
$92.13
Las Vegas, NV
$ FREE
$44.55
$63.20
$102.25
Los Angeles, CA
$ FREE
$44.55
$63.20
$102.25
Seattle, WA
$ FREE
$44.55
$63.20
$102.25
Alaska & Hawaii
$ FREE USPS
--
$72.77 UPS
$120.29 UPS
Order Processing
1 day
0 days
0 days
0 days
Shipping Time
2-6 days
3 days
2 days
1 day
Overall Delivery Time
3-7 days
3 days*
2 days*
1 day*
Canada

We ship USPS Priority Mail to Canada via United States Postal Service to Canada Post ($30 additional fee applied at time
of purchase). Allow minimum 7 -10 days for delivery. Some Canadian provinces may apply additional government and/or
provincial taxes at time of delivery - these additional Canadian charges are the responsibility of the customer.
MORE INFO


Shipping costs are shown as an average cost for a 8 lb package being shipped to the metropolitan areas shown. Rural or "off the beaten path" destination costs will be greater. These costs are provided as an informational guide to help our customers select a shipping method. Your final cost will be determined by the customer's shipping zip code and final shipping weight. UPS reserves the right to change the pricing schedule without notice. Orders are shipped via UPS Ground (unless otherwise requested by customer).

Last updated 06/3/13.
4. Do you ship APO/FPO?

Yes. We ship to all AA, AE & AP addresses; unless DOD restrictions exist.
5. Do you ship outside the continental U.S.?
Yes, we do. At time of your order checkout click on the
"International Checkout."
button.
top of page